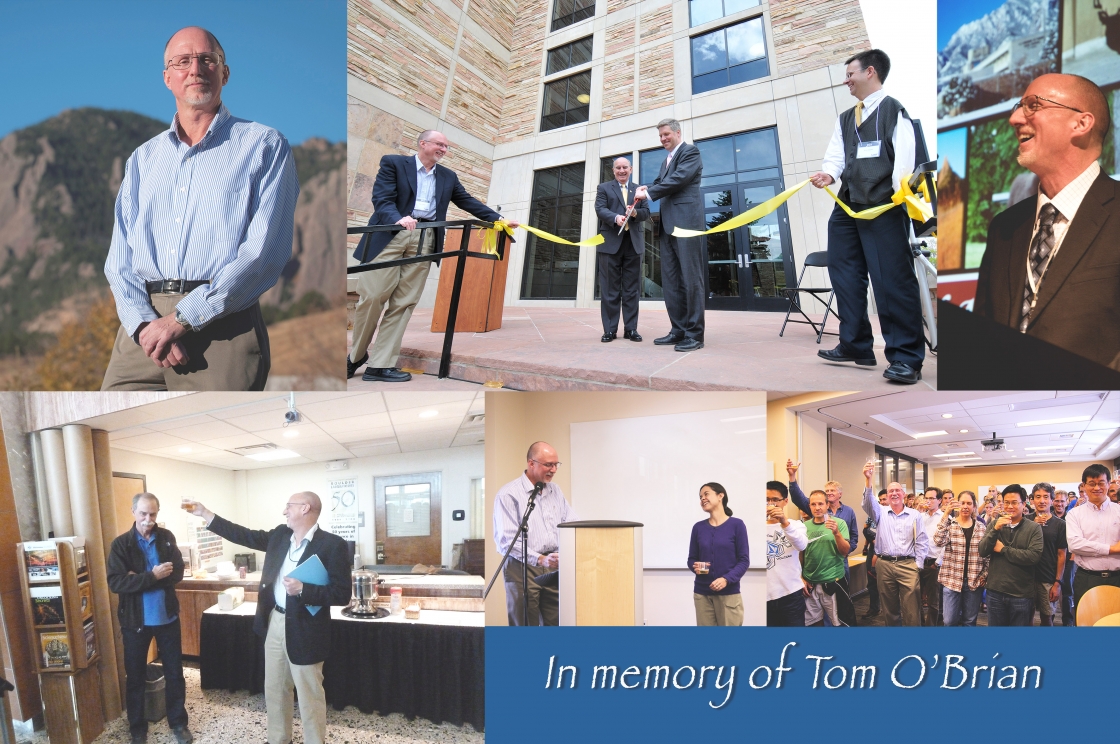 NIST and JILA mourn the passing of JILA Quantum Physics Division Chief Thomas O'Brian. O'Brian passed away unexpectedly in his home on Thursday, November 21 at the age of 64.
"Tom was a wonderful boss, and a wonderful human being.  I admired him for his sense of responsibility for those around him, his caring," said JILA Fellow Eric Cornell. "His untimely death was a huge loss for the JILA community. I miss him a lot."
An exemplary scientist and manager, O'Brian joined NIST in 1991 as a National Research Council postdoctoral fellow in the former NIST Physics Laboratory. His research specialized in laser light interactions with atoms, and later the use of synchrotron radiation as a precision measurement tool.
After working his way up through the ranks at NIST in Gaithersburg, Maryland and Boulder, Colorado, O'Brian became the director of the NIST Program Office in 2002. He was named director of the NIST Boulder Laboratory in 2006. O'Brian assumed his duties as the chief of the time and frequency division at NIST's Physical Measurement Laboratory in 2008, and of the Quantum Physics Division at JILA in 2009, where he served until his death. O'Brian also founded and advocated for the NIST-on-a-chip program, which would make NIST's precision measurement tools portable and inexpensive for the public. 
As a leader, O'Brian was a tireless advocate for science and its role in the community, working to engage the public and the scientific communities in this important work. He championed the work of scientists and researchers throughout NIST, JILA, and the University of Colorado-Boulder, including JILA's three Nobel laureates. In 2012 he was overjoyed to introduce NIST's most recent Nobel laureate David Wineland at a NIST press conference. O'Brian was at his best when mentoring young scientists, and had a passion for ensuring that individuals were considered, heard, and respected throughout the organizations he served. 
"All of JILA will miss Tom," said JILA Chair Thomas Perkins. "He was a tireless advocate for JILA, its students, staff and fellows. Tom provided invaluable guidance and advice to many of us, both as a boss and a mentor. Finally, Tom loved to celebrate the success of our students, their awards, and how they became JILA's ambassadors to the broader international scientific enterprise."
"Tom's exceptional intelligence, laser sharp insights, and dedication to NIST were clear to not only those who knew and admired him, but to the much broader scientific community as well. He will be sorely missed and remembered as a model for us all," said James Kushmerick, director of the Physical Measurement Laboratory at NIST. 
If you would like to share a memory, story, or your condolences with Tom's family, please send an email to Eyvon.Petty@jila.colorado.edu. All submissions will be placed in a memorial book to be given to the family. Memorial gifts may be directed to charities that were close to Tom's heart--Be the Match, the national marrow donor registry which enables unique immunological research as well as providing marrow donors, and Almost Home, a no-kill shelter and rescue for cats.