Stabilizing a wormhole with exotic matter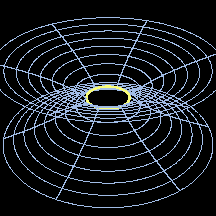 In principle, a wormhole could be stabilized by threading its throat with 'exotic matter'. In the stable wormhole at left, the exotic matter forms a thin spherical shell (which appears in the diagram as a circle, since the embedding diagram is a 2-dimensional representation of the 3-dimensional spatial geometry of the wormhole).
The shell of exotic matter has negative mass and positive surface pressure. The negative mass ensures that the throat of the wormhole lies outside the horizon, so that travellers can pass through it, while the positive surface pressure prevents the wormhole from collapsing.
In general relativity, one is free to specify whatever geometry one cares to imagine for spacetime; but then Einstein's equations specify what the energy-momentum content of matter in that spacetime must be in order to produce that geometry. Generically, wormholes require negative mass exotic matter at their throats, in order to be traversible.
While the notion of negative mass is certainly bizarre, the vacuum fluctuations near a black hole are exotic, so perhaps exotic matter is not utterly impossible.
A good reference is M. S. Morris & K. S. Thorne (1988), "Wormholes in spacetime and their use for interstellar travel: A tool for teaching general relativity", American Journal of Physics, 56, 395-412.