About Ana Maria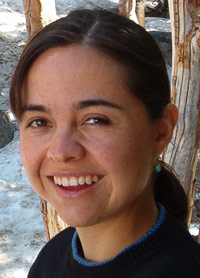 Ana Maria Rey



Office: S326


Phone: 303-492-8089


Fax: 303-492-5235


Email: arey@jilau1.colorado.edu


CV: My CV
Education
University of Maryland
College Park, Maryland, USA
Ph.D., Physics
August 2004
Dissertation Title: "Ultracold bosonic atoms in optical lattices"
Advisors: Charles W. Clark and Theodore R. Kirkpatrick
Universidad de los Andes
Bogota, Colombia
B.S., Physics
March 1999
Dissertation Title: "Propagation of electromagnetic radiation in Kerr's metric"
Advisors: Rafael Bautista
Honors & Awards
Fundacion Alejandro Angel Escobar, Exact, Physical and Natural Sciences Prize, September 2007.
Postdoctoral fellowship, ITAMP 2005-2008.
Atomic, Molecular, and Optical Physics Outstanding Doctoral Thesis Award (DAMOP thesis prize), American Physical Society, 2005.
Cooperative Fellowship NIST/Chemical Physics (UMD), 2002-2004.
Departmental Fellowship, University of Maryland, 2000-2002.
Magna cum laude B.S. Physics degree, Universidad de los Andes, 1999.
Best GPA award, Universidad de los Andes, 1997 and 1998.
"Beca 40 anos" Fellowship, Universidad de los Andes, 1994-1998.
Academic Experience
Fellow of JILA
Assistant Professor Adjoint, Department of Physics
January 2012- Present
Associate Fellow of JILA
Assistant Professor Adjoint, Department of Physics
August 2008- 2011t
Institute of theoretical, Molecular, and optical Physics (ITAMP)
At the Harvard- Smithsonian Center for Astrophysics, Cambridge, Massachusetts, USA.
Postdoctoral fellow
September, 2005 – 2008
National Institute of Standards and Technology (NIST)
Gaithersburg, Maryland, USA.
Postdoctoral researcher
September 2004 - September 2005
University of Maryland
College Park, Maryland, USA.
Research Assistant
September 2000 - September 2004
Personal
My Husband: Juan G. Restrepo



Office: University of Colorado, Applied Math, ECOT 241


Phone: (303) 735-5640


Fax: (303) 492-4066


Email: juanga@colorado.edu