Stellar Chromospheres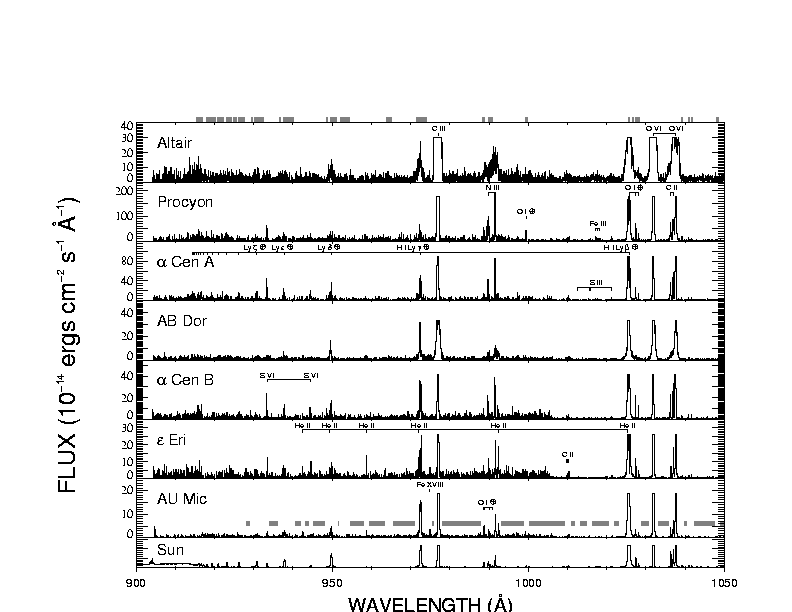 Stellar chromospheres and transition regions contain the moderate temperature (5,000-500,000 K) gas located between the photosphere and corona. These regions are best studied using the emission lines they emit in the ultraviolet. We are analyzing HST spectra of active late-type stars and binary systems to develop models for these stars consistent with the data. Of special interest are stars that flare, RS CVn-type binary systems, M dwarfs, and host stars of exoplanetary systems. The above figure shows a portion of the far-ultraviolet spectra of seven dwarf stars observed with the Far Ultraviolet Explorer (FUSE) spacecraft and a comparison solar spectrum obtained with the SUMER instrument on SOHO. Important emission lines of H I (Lyman series), He II, C II, C III, O VI, and S VI formed in the chromospheres and transition regions of these stars between 8,000 K and 300,000 K are indicated. Also shown is the Fe XVIII line at 977 A formed in the coronae of these stars. We are analyzing these data to understand the dynamics and energy balance in these stellar atmospheres.
Research Objectives:
Analyze high-resolution stellar UV spectra obtained with the STIS and GHRS instruments on HST and FUSE.
Determine the physical properties and structure of the chromospheres of active and quiescent late-type stars and binary systems.
Determine the physical properties and structure of the chromospheres of premain sequence stars.
Study flare dynamics and energetics using high resolution UV spectra.
Compute state-of-the-art model chromospheres of cool stars consistent with high-resolution UV spectra.
Review the development of stellar chromosphere models and spetroscopic diagnostics.
Important Results and Discoveries:
Originated and led a multi-year program to compute semi-empirical stellar model chromospheres using non-LTE radiative transfer consistent with the spectra of ultraviolet and optical emission lines. These models describe the chomospheres of G, K, and M stars.
Incorporated partial redistribution radiative transfer to explain the observed profiles and fluxes of emission lines of Ca II, Mg II, Lyman-alpha, and other ultraviolet emission lines.
Wrote two Annual Reviews of Astronomy and Astrophysics review papers on stellar chromospheres and spectral diagnostics.
Wrote the book "Host Stars and their Effects on Exoplanet Atmospheres" that describes the phenomenology and physics of stellar chromospheres and effects on exoplanet atmospheres. The book is directed at exoplanet modelers.
Led observing programs on many satellites (IUE, FUSE, HST/HRS, HST/STIS, and HST/COS) to obtain high-resolution ultraviolet stellar spectra coordinated with X-ray and optical observations to study stellar chromospheres.
Showed that emission in the Lyman-alpha line dominates the total radiative losses in the chromospheres of M dwarfs.
Analyzed flare spectra of late-type stars and binary systems.
Described the relative emission from chromospheres and coronae as a function of stellar effective temperature and age.
Papers published in refereed journals since 2000:
Youngblood, A., Pineda, J.S., Ayres, A., France, K., Linsky, J.L., et al.: 2022, "Intrinsic Lyα Profiles of High-velocity G, K, and M Dwarfs", Astrophysical Journal, 926, 129
Tilipman, Vieytes, M., Linsky, J.L., Buccino, A.P., and France, K.: 2021, "Semiempirical Modeling of the Atmospheres of the M Dwarf Exoplanet Hosts GJ 832 and GJ 581", Astrophysical Journal, 909, 61
Wilson, D.J., Froning, C.S., Duvvuri, G.M., Linsky, J.L., et al.: 2021, "The Mega-MUSCLES spectral energy distribution of TRAPPIST-1", Astrophysical Journal, 911, 18W
Linsky, J.L., Wood, B.E., Youngblood, A., Brown, A., et al.: 2020, "The Relative Emission from Chromospheres and Coronae: Dependence on Spectral Type and Age", Astrophysical Journal, 902, 3
Melbourne, K., Youngblood, A., France, K., Linsky, J.L., et al.: 2020 "Estimating the ultraviolet emission of M dwarfs with exoplanets from Ca II and Halpha", Astronomical Journal, 160, 269M
Loyd, R.O.P., France, K., Youngblood, A., Linsky, J.L., et al.: 2018, "The MUSCLES Treasury Survey. V. FUV flares on active and inactive dwarfs", Astrophysical Journal, 867, 71L
Youngblood, A., France, K., Loyd, R.O.P., Linsky, J.L., et al.: 2017, "The MUSCLES Treasury Survey. IV. Scaling relations for ultraviolet, Ca II K, and energetic particle fluxes from M dwarfs", Astrophysical Journal, 843, 31Y
Fontenla, J.M., Linsky, J.L., Witbrod, J., et al.: 2016, "Semi-empirical modeling of the photosphere, chromosphere, transition region, and corona of the M-dwarf host star GJ 832", Astrophysical Journal, 830, 154
France, K., Parke Loyd, R.O., Youngblood, A., Linsky, J.L., et al.: 2016, "The MUSCLES Treasury Survey I: Motivation and Overview", Astrophysical Journal, 820, 89
Youngblood, A., France, K., Parke Loyd, R.O., Linsky, J.L., et al.: 2016, "The MUSCLES Treasury Survey II: Intrinsic Lyman alpha and extreme ultraviolet spectra of K and M dwarfs with exoplanets", Astrophysical Journal, 820, 101
Parke Loyd, R.O., France, K., Youngblood, A., Linsky, J.L., et al.: 2016, "The MUSCLES Treasury Survey III: X-ray to Infrared spectra of 11 M and K stars hosting planets", Astrophysical Journal, 824, 102
Linsky, J.L., Fontenla, J., and France, K.: 2014, "The intrinsic extreme ultraviolet fluxes of F5 V to M5 V stars", Astrophysical Journal, 780, 61
Linsky, J.L., France, K., and Ayres, T.: 2013, "Computing intrinsic Lyman-alpha fluxes of F5 V to M5 V stars", Astrophysical Journal, 766, 69
Green, J.C., Froning, C.S., Linsky, J.L. et al.: 2012, "The cosmic origins spectrograph", Astrophysical Journal, 744, 60
France, K., Linsky, J.L., Tian, F. et al.: 2012, "Time-resolved ultraviolet spectroscopy of the M-dwarf GJ 876 exoplanetary system", Astrophysical Journal, 750, L32
Linsky, J.L., Bushinsky, R., Ayres, T., and France, K.: 2012, "Ultraviolet spectroscopy of rapidly rotating solar-mass stars: Emission-line redshifts as a test of the solar-stellar connection", Astrophysical Journal, 754, 69
Schindhelm, E., France, K., Linsky, J.L. et al.: 2012, "Lyman alpha dominance of the classical T Tauri far-ultraviolet radiation field", Astrophysical Journal, 756, L23
Linsky, J.L., Bushinsky, R., Ayres, T., Fontenla, J., and France, K.: 2012, "Far-ultraviolet continuum emission: Applying this diagnostic to the chromospheres of solar-mass stars", Astrophysical Journal, 745, 25
Dupree, A.K., Lobel, A., Young, P.R., Ake, T.B., Linsky, J.L., and Redfield, S.: 2005, "A far-ultraviolet survey of luminous cool stars", Astrophysical Journal, 622, 629
Pagano, I., Linsky, J.L., Valenti, J., and Duncan, D.K.: 2004, "HST/STIS High Resolution Echelle Spectra of Alpha Centauri (G2 V)", Astronomy and Astrophysics, 415, 331
Redfield, S., Linsky, J.L. et al.: 2002, "A FUSE spectroscopic survey of late-type dwarfs", Astrophysical Journal, 581, 626
Simon, T., Ayres, T.R., Redfield, S., and Linsky, J.L.: 2002, "Limits on chromospheres and convection among main sequence A stars", Astrophysical Journal, 579, 800
Bloomfield, D.S., Mathioudakis, M., Christian, D.J., Keenan, F.P., and Linsky, J.L.: 2002, "Opacity in the upper atmosphere of AU Mic", Astronomy and Astrophysics, 390, 219
Young, P.R., Dupree, A.K., Wood, B.E., Redfield, S., Linsky, J.L., Ake, T.B., and Moos, H.W.: 2001, "FUSE observations of Capella", Astrophysical Journal Letters, 555, L121
Robinson, R.D., Linsky, J.L., Woodgate, B.E., and Timothy, J.G.: 2001, "FUV observations of flares on the dM0e star AU Microscopii", Astrophysical Journal, 554, 368
Ake, T.B., Dupree, A.K., Young, P.R., Linsky, J.L., Malina, R.F., Griffiths, N.W., and Siegmund, O.H.W.: 2000, "FUSE observations of the active cool star: AB Dor", Astrophysical Journal Letters, 538, L87
Pagano, I., Rodono, M., Linsky, J.L., Neff, J.L., Walter, F.M., Kovari, Z., and Mathews, L.D.: 2001, "Spectral imaging maps of AR Lacertae. I. Results from IUE observations in 1994, October", Astronomy and Astrophysics, 365, 128
Valenti, J.A., Johns-Krull, C.M., and Linsky, J.L.: 2000, "An IUE atlas of pre-main-sequence stars: I., coadded final archive spectra from the SWP camera", Astrophysical Journal Supplements, 129, 329
Johns-Krull, C.M., Valenti, J.A., and Linsky, J.L.: 2000, "An IUE atlas of pre-main-sequence stars: II., Far UV accretion diagnostics in T Tauri stars", Astrophysical Journal, 539, 815
Pagano, I., Linsky, J.L., Carkner, L., Robinson, R.D., Woodgate, B., and Timothy, G.: 2000, "HST/STIS echelle spectra of the dM1e star AU Microscopii outside of flares", Astrophysical Journal, 532, 497
Linsky, J.L.: 2000, "The Wilson-Bappu relation between Ca II emission and stellar luminosities", Astrophysical Journal, 525, 776
Review papers and conference papers since 2000:
Linsky, J.L.: 2019, "Host Stars and their Effects on Exoplanet Atmospheres", book published by Springer
Linsky, J.L.: 2017, "Stellar model chromospheres and spectroscopic diagnostics", Annual Reviews of Astronomy and Astrophysics, 55, 159
Linsky, J.L., France, K., Miguel, Y., and Kaltenegger, L.: 2016, "Quiescent and flaring Lymna-alpha radiation of host stars and effects on exoplanets", in Solar and Stellar Flares and their Effects on Planets, IAU Symposium No. 320, 391
Redfield, S. and Linsky, J.L.: 2004, "Monitoring Altair's far-ultraviolet emission lines for variability over a stellar rotation period", Proceedings of the 13th Cool Stars Workshop, Ed. F. Favata, ESA SP-560, 903
Linsky, J.L.: 2004, "Summary for Cool Stars 13: internal and external connections", Proceedings of the 13th Cool Stars Workshop, Ed. F. Favata, ESA SP-560, 367
Linsky, J.L.: 2002, "Summary of the Twelfth Cool Stars Workshop: Insights, Mysteries, and Action Items", in Cool Stars 12, Proceedings of Cool Stars 12, to appear
Pagano, I., Ayres, T.R., Lanzafame, A.C., Linsky, J.L., Montesinos, B., \& Rodon\`o, M.: 2006, "Key problems in cool-star astrophysics", , Astrophysics and Space Science, 303, 17
Linsky, J.L., Redfield, S., Ayres, T.R., Brown, A., and Harper, G.: 2001, "Cool star chromospheres and the Sun" in Eta Carinae and other Mysterious stars, ed. T. Gull, S. Johansson, and K. Davidson, ASP Conf. Series, 242, 257
Linsky, J.L. "Cool star chromospheres and the Sun", invited talk at the International Conference on Eta Carinae and other Mysterious Stars, Hven, Sweden, August 25, 2000, Astronomical Society of the Pacific Conference Series, 242, 247
Linsky, J.L.: "Empirical constraints on stellar dynamos", invited talk at the Workshop on Astrophysical Dynamos, Aspen CO, June 14, 2000
Return to main page