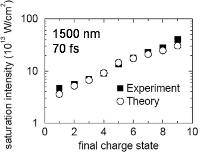 Ion yields of molecules measured in the past with CO2 lasers were almost identical to those of atoms with comparable ionization potentials. This similarity has been thought to be a consequence of the tunnel ionization picture, in which the ionization probability depends on the ionization potential and the field strength. Recent experiments with Ti:sapphire lasers have shown that this interpretation does not hold. Diatomics and complex molecules do reach, with a few exceptions, saturated ionization at higher intensities than the companion atoms. S-matrix results are in agreement with experimental data for a series of molecules, as exemplified for C60. The suppression is found to be due to interference effects between partial waves emitted from different nuclear centers in the molecule.
References:
J. Muth-Böhm et al.,
Phys. Rev. Lett.
85
, 2280 (2000)
A. Jaron-Becker et al.,
Phys. Rev. Lett.
96
, 143006 (2006)
Collaboration:
F.H.M. Faisal (Bielefeld University, Germany)